Mrs. Josephine Kollie Barclay, Founder and Executive Director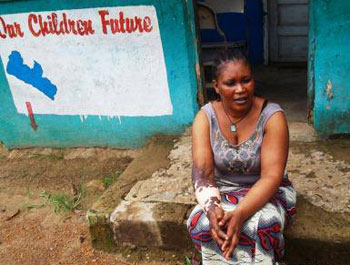 Is an outgoing professional with dynamic leadership, excellent skillful in program management which involve social work such as reunifying war affected youth with parents. Trauma counseling which includes: war affected children, rape victims, and protection of street kids. Conducting worship in gender base violence, and hygiene promotion. Building the capabilities of war affected women and underprivileged girls by giving loans in order to improve their living condition for effective input to program for post war work. She is a mother of three children.
She is the founder for a local NGO call Our Children Future (OCF) also a value member of some women's group, she is socially culturally balance, in other words she understand the way and life of people, She has some 10 years' experience in working and developing the mind of children. She believes in hard work and taking personal initiatives with strong determination. She has shown this throughout her life in various personal initiatives for development by establishing a learning program called Our Children Future (OCF).
Mrs. Barclay holds a BA degree in human science from the University of Liberia (UL) and AA degree in Secretary Science, special training and skills in other areas: Trauma counseling, sexual gender base violence, Background investigation, Hygiene promotion, Motivation, proactive and innovation. Work with international and local NGOs as well. As a Liberian living in a society that is deeply patriarchal and divided on class and ethnicity she exhibits change by being vocal on child rights issues. On some of her less time she write poems: The village I live, the step 'I walk, O' beauty etc. She like cooking, reading, and spending time with children. September 11, 2008 involved in a serious burned accident on her right hand.